WEDNESDAY, APRIL 16, 2014, 5:02 P.M.
How Will Bankruptcy Hit Sandpoint?
Beyond the dollars and cents, Coldwater Creek's bankruptcy is a blow to the local identity. As one of the community's largest local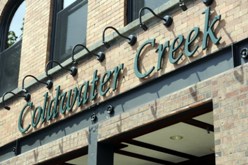 employers, the company was an integral part of the local economy and a consistent supporter of local education and charities. However, the company was also woven into Sandpoint's character, making it a cultural loss as well. "Coldwater Creek has been an employment, philanthropic and cultural mainstay in Sandpoint for 30 years," said Dave Gunter, who retired as the company's divisional vice present of corporate communications and investor relations in June 2007. "This latest chapter takes nothing away from the power of the original vision of Ann and Dennis Pence and the fact that they put literally everything on the line when they founded their company in our community back in 1984"/Cameron Rasmusson, Bonner County Daily Bee. More here.
Question: How do you think Coldwater Creek's bankruptcy will affect the Sandpoint area?
---
---