Wed., April 16, 2014, 1:58 p.m.
Militia Leader Avoids Bundy Tangle
In his Letters from the West blog, Rocky Barker/Idaho Statesman explains why an Idaho militia leader is staying clear of the Bundy mess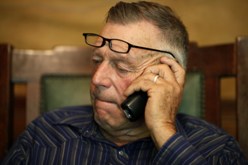 in Nevada: Jeff Stankiewicz, a former commander and now liaison for the Idaho Lightfoot Militia, said in a Facebook post last week calling for militia to help the Bundys that he was doubtful they could legally justify it as an Idaho militia under the Idaho Constitution. "I told people not to go, it would just inflame things," Stankiewicz said. He said only if the governor of Nevada, or perhaps the local sheriff, had called in the militias could the Idaho Lightfoot Militia respond. "Philosophically I'm on (Bundy's) side," said Stankiewicz, a production manager at a steel manufacturing plant from Bonners Ferry. "I think the states should be running that land in our state. "If they want to make their stand, more power to them," he said. "But I don't live in Nevada." More here. (AP file photo: Cliven Bundy talks on the phone at his ranch near Bunkerville Nev.)
Question: Do you think this standoff will lead to blood shed?
---
---