Thu., April 17, 2014, 2:34 p.m.
Chelsea Clinton Announces Pregnancy
Chelsea Clinton said Thursday that she and her husband, Marc Mezvinsky, are expecting their first child later this year, adding a new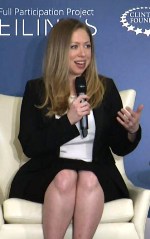 label to her mother, the potential 2016 Democratic presidential nominee: grandmother. "I just hope that I will be as good a mom to my child and, hopefully, children as my mom was to me," Ms. Clinton said. She made the surprise announcement at an event on the Lower East Side where she and Mrs. Clinton sat on stage with the actress America Ferrera to discuss the Bill, Hillary & Chelsea Clinton Foundation's efforts to advance women and girls. Mrs. Clinton, who has for years joked that she is impatient to become a grandmother, said she was "really excited" about the news. Mr. Mezvinsky stood in the back of the packed room at the Lower Eastside Girls Club/New York Times. More here. (AP photo)
Question: How excited were you the first time you learned that you were going to be a grandparent?
---
---