Thu., April 17, 2014, 8:58 a.m.
Domino's Offering Specialty Chicken
Bird's the word in a market that has been powered by pepperoni. Domino's is now delivering chicken to its customers - but not the way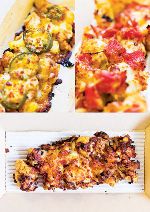 you're used to. Called Specialty Chicken, Domino's newest product line features boxes of a dozen bite-sized, lightly breaded boneless chicken breast pieces smothered in sauces, cheeses and other goodies. In spreading the word of the Domino's bird, local franchise king Jim Hightower whisked 10 boxes of specialty chicken to The Press newsroom Wednesday for a taste test and the review you're reading now. Jim's going to like the results, but first, a bit about that chicken. There are four options: Crispy bacon and tomato; classic hot buffalo; spicy jalapeno/pineapple; and sweet barbecue bacon/Mike Patrick, Coeur d'Alene Press. More here. (Coeur d'Alene Press photo: Shawn Gust)
Question: Is the new chicken line at Domino's something you might try?
---
---