Thu., April 17, 2014, 11 a.m.
'Laramie Project: 10 Years Later'
The North Idaho College Theatre Department is presenting "The Laramie Project: Ten Years Later" at 7:30 p.m., April 17-19 and April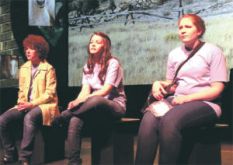 24-26, in Boswell Hall Schuler Performing Arts Center. It has been 10 years since the creation of "The Laramie Project," a play that examines the effect the 1998 killing of Matthew Shepard -- a murder motivated by homophobia that gained widespread national attention - has had on the community of Laramie, Wyo. Now, a decade later, Moiss Kaufman and the Tectonic Theatre Project decided to follow up and explore the long-term effects of the Shepard murder on the people of Laramie. They expected to create a short epilogue to be used with "The Laramie Project," but what they found was a story complex enough that the epilogue became a full-length play/Coeur d'Alene Press. More here. (Courtesy photo: NIC students, from left, Kate Taylor, Loretta Underwood, and Megan Curran rehearse)
Question: Did you see a production of the original "Laramie Project"?
---
---