Thu., April 17, 2014, 8:39 a.m.
Shea Backs Bundy Stand In Nevada
Spokane Valley state legislator Matt Shea traveled to Nevada last weekend to support defiant rancher Cliven Bundy's stand that he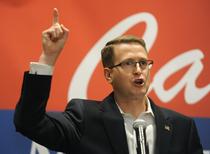 doesn't have to pay grazing fees on federal land. Shea is among a small coalition of legislators from Western states calling for federal lands to be handed over to states. The Nevada episode led to a standoff between Bundy and a large group of armed protesters against agents with the U.S. Bureau of Land Management. The agents had arrived to enforce a federal judge's order to remove Bundy's cattle from the land, but left and deflated the volatile scene. Shea spoke the following day from property near the center of the dispute, saying the federal government has declared "war on rural America" with its rules and regulations on land use/Jim Camden, SR. More here.
DFO: Shea is one of four INW legislators who will speak at the 2nd Amendment Rally of the Oath Keepers at the Kootenai County Fairgrounds. Idaho state Sen. Bob Nonini, Sen. Steve Vick and Rep. Vito Barbieri will also speak.
Question: Would you support a legislator who supported the Bundy stand in Nevada against the federal government?
---
---