FRIDAY, APRIL 18, 2014, 3:49 P.M.
17th Amendment Repeal? Who Cares?
The Idaho Republican Party endorses repeal of the 17th Amendment to the Constitution, which allows election of U.S. senators by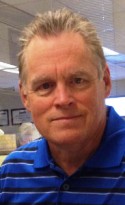 popular vote – and not the Legislature. I say get 'er done, because it makes no difference. Election by the people and the Legislature would produce the same results in this Republican state. Idaho has not had a Democrat in the U.S. Senate since Frank Church and, since Democrats are so inept, I doubt if I will see another Democrat in the Senate in my lifetime. So what kind of U.S. Senators would we get if they were elected by the Legislature? We'd have Mike Crapo, for sure. He was a former president pro tem of the Idaho Senate and a member of the House of Representatives before moving to the Senate. Who would fill the second slot? Why, it would be Jim Risch – a former Senate pro tem, majority leader, lieutenant governor and governor/Chuck Malloy, Ridenbaugh Press. More here.
Question: Why are the Tea Party types so worked up about the 17th Amendment when the results would be the same either way?
---
---