Fri., April 18, 2014, 1:07 p.m.
Balukoff NRA Snub Attracts 'Likes'
Democrat A.J. Balukoff's snubbing of the NRA's candidate questionnaire has generated the heaviest response of any issue since he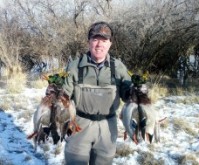 announced his bid for governor in December, says campaign spokesman Mike Lanza. Balukoff's April 10 Facebook post has generated about 500 "likes" and about 100 largely positive comments. "(T)hat post has generated more responses than anything we've done yet, by far," Lanza said. "My take is that people found it refreshing that A.J. said he wouldn't let his position on anything be dictated by a special-interest group and that he offered up a moderate position that respects Second Amendment and individual liberties." That's not to say Lanza is blithely unmindful of how a snit with the NRA might shape Balukoff's image in gun-loving Idaho/Dan Popkey, Idaho Statesman. More here. (Photo: Idaho Statesman site courtesy of Balukoff campaign)
Question: I find it refreshing to find one candidate for Idaho governor who doesn't put his finger in the wind before taking stands on controversial issues. How about you?
---
---