FRIDAY, APRIL 18, 2014, 10:11 A.M.
May 10: Stand Down Offers Hand Up
Stand Down has more than one meaning. In times of war, exhausted military combat units requiring time to rest and recover were removed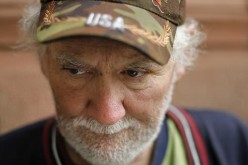 from the battlefields to a place of relative security and safety. Stand Down today refers to a grassroots, community-based program designed to help the nation's estimated 275,000 homeless veterans "combat" life on the streets. Stand Down creates an environment of safety and security under which the homeless veteran can gain a renewed sense of self-respect, comradeship, and hope. It is an opportunity for our community to truly connect with our homeless veteran population and contribute to their well being. ... It is estimated there are 1,000 homeless veterans in Kootenai County. Yes, one thousand. Every single one of these brave souls has served this country and defended your freedom. Here are two opportunities for you to help give them a "Hand Up." If you would like to volunteer for the May 10 event, you can register online at www.kootenaiunitedway.org/Jean Seymour, Coeur d'Alene Press op-ed. More here. (AP file photo of homeless vet for illustrative purposes)
Question: Do you know a homeless veteran?
---
---