Fri., April 18, 2014, 8:13 a.m.
SR: Shea Wrong To Back Bundy
Voters in Legislative District 4 should be concerned that Rep. Matt Shea, pictured, would venture off to Nevada to support a scofflaw engaged in a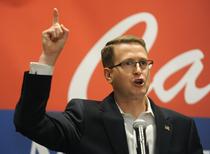 dangerous standoff. Defiant rancher Cliven Bundy's protest against paying grazing fees has become a cause celebre among people, like Shea, who believe the states can nullify federal laws they believe to be unconstitutional. This doctrine of nullification has been drubbed in the courts. In any event, the state of Nevada isn't protesting grazing fees, so a passel of officeholders with fringe views on the Constitution have descended on the Bundy ranch to say, "See! This is what we mean!" You'll have to pardon the law-abiding among us if we're not persuaded by Bundy's act of armed disobedience. He looks more like a freeloader when compared to ranchers who pay to feed their livestock/Spokesman-Review Editorial Board. More here.
DFO: Shea will be one of four Inland Northwest legislators speaking at a 2nd Amendment rally of the Oath Keepers at the Kootenai County Fairgrounds at noon Saturday. Others will be state Sens. Steve Vick, Dalton Gardens, and Bob Nonini, Coeur d'Alene, and state Rep. Vito Barbieri.
Question: Do you think this is a good question to ask at a candidates' forum this spring: Do you support Cliven Bundy's stand against the federal government?
---
---