MONDAY, APRIL 21, 2014, 4:11 P.M.
Joan Baez Faces Idaho Falls Protest
What would you do if you found yourself standing face to face with people bearing signs accusing you by name of killing babies and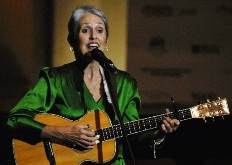 encouraging the shooting of American soldiers? Might you lose your cool? Might you get involved in an exchange that would ultimately lead to anger or descend into the shouting matches we've been seeing at so many Town Halls lately? Not if you're Joan Baez, who, in the 50th year of her career, continues to live according to unshakeable ideals of non-violence and compassion in ways that should inspire us all. Last night, four Vietnam veterans protested Joan's concert in Idaho Falls with signs reading: "JOAN BAEZ - SOLDIERS DON'T KILL BABIES, LIBERALS DO" and "JOAN BAEZ GAVE COMFORT & AID TO OUR ENEMY IN VIETNAM & ENCOURAGED THEM TO KILL AMERICANS!" Joan was informed that the men were protesting her concert about an hour before it was due to begin and she immediately walked out onto the street to talk to them/waydownsouth, Daily Kos. More here. (AP file photo)
Question: Favorite old-time female folk singer -- Joan Baez, Joni Mitchell, Judy Collins or someone else?
---
---