Mon., April 21, 2014, 11:08 a.m.
Out, Out, Damn Woodpecker
On her Facebook page, Jeanne H reports on something that happens at my house every year: "So, this morning I hear this horrible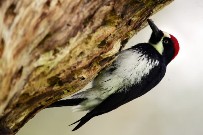 "roaring" sound in the house....thinking it's water pipes or something. Finally, after wandering through the house, I am standing in front of the gas fireplace and it's coming through loud and clear. At the same time I hear a very loud bird outside. When I go out to investigate, a woodpecker (who else?) is in the top of our metal chimney drilling away! After scaring him off twice, he ended up on the house three doors down, drilling away. Herb just scared him away again...what gives? Is it hunting season for woodpeckers??" (AP photo for illustrative purposes)
Question: How do you deal with Woody Woodpecker & Co when they come calling?
---
---