MONDAY, APRIL 21, 2014, 8:40 A.M.
Regan: It's All About Freedom
"The Second Amendment isn't about firearms. It's about freedom," Brent Regan said. He stood outside the Gladys Buroker Building at the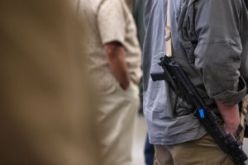 Kootenai County Fairgrounds on Saturday afternoon, following a speech he gave to a lively crowd at the Patriots' Day Idaho Oath Keepers Second Amendment Rally. "Other people don't have the right to tell you that you can't defend yourself in certain ways if you're presented with force," he said. "The Second Amendment was put in to make sure it was clear that the government shouldn't infringe on that right, because confiscation was one of the first acts that the British tried to do to subdue colonists." ... (Regan) joined at least 150 people in frank discussions about patriotism, liberty, gun rights and the future of the nation/Devin Heilman, Coeur d'Alene Press. More here. (CdA Press photo by Gabe Green: A large weapon hangs from a man's shoulder, a common sight at Saturday's Oathkeepers 2nd Amendment Rally held at the Kootenai County Fairgrounds)
Question: What do you know about the Oath Keepers?
---
---