TUESDAY, APRIL 22, 2014, 10:38 A.M.
Fernan Man's Grandson Wins Pulitzer
It has been 20 years since longtime Fernan Lake Village resident Jack Rogers planted a seed that would grow into a Pulitzer Prize. Jack and Marlys Rogers' grandson, Florida journalist Michael LaForgia, 30, was awarded a Pulitzer last week for local reporting for the Tampa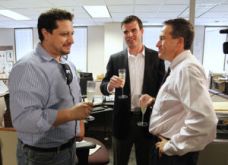 Bay Times. "My Grandpa Jack was the first person to expose me to great journalism. When I was a 10-year-old living in South Carolina, I remember he bought me a subscription to The Atlantic Monthly, and he kept renewing it until I was done with high school," wrote LaForgia, in an email interview from Florida. "It was the first time I ever had read anything like that. It's very possible I never would have gotten into journalism if it weren't for him." The Pulitzer was awarded to LaForgia and another Tampa Bay Times reporter, Will Hobson, 29, for stories that exposed corruption in a government agency charged with providing transitional housing for the homeless in Florida's Hillsborough County/Maureen Dolan, Coeur d'Alene Press. More here. (AP photo: Tampa Bay Times reporters Michael LaForgia, left, and Will Hobson, center, are congratulated by Editor and Vice President Neil Brown, right)
Question: Do you have any writers in your family?
---
---