Tue., April 22, 2014, 1:21 p.m.
Petitions Seek To Save Idaho Ravens
More than 20,000 people have signed an online petition aimed at Idaho Fish and Game to stop the killing of thousands of ravens. The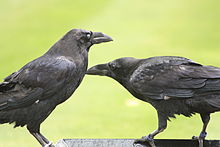 point of the raven population control, though, is to protect another bird close to becoming endangered: the sage grouse. Don Kemner's job at the Idaho Fish and Game Department is to safeguard the sage grouse. "They're a really iconic bird of the west," Kemner says. "They are tied to the sage brush steppe and have a lot of meaning to a wide variety of the public." California conservationist Michele Anna Jordan is fighting on behalf of the ravens/Jessica Murri, Boise State Public Radio. More here. (Photo: Wikipedia)
Question: Do you think a California-based online petition drive will have much impact on Idaho officials?
---
---