Wed., April 23, 2014, 8:32 a.m.
Dems Want Brannon To Apologize
Local Democrats are calling on the Kootenai County clerk to apologize publicly for what they believe was a mishandling of the candidate filings for the upcoming May primary. In a letter addressed to Clerk Jim Brannon, Kootenai County Democratic Central Committee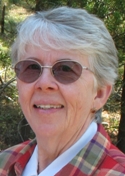 Chairman Paula Neils, pictured, questions why Brannon would change county policy and require all candidates to file in person at the county elections office, without notifying the parties of that change. "I am writing to protest the handling of a recent, unannounced change in procedure for candidate filing by the Elections Department in Kootenai County," Neils wrote, in the letter addressed to Brannon. "Promulgation of that new procedure has sullied the election process in Kootenai County." She went on to say that several candidates - both Republicans and Democrats - could be damaged by the change in procedure because many will now have to run as write-in candidates/Jeff Selle, Coeur d'Alene Press. More here.
Question: How serious do you consider this unilateral change in filing procedures?
---
---