Wed., April 23, 2014, 3:23 p.m.
'Kid Cannabis' Screening Tonight
My friend Kevin Taylor gets around the Inland Northwest. We first worked together more than 30 years ago at the short-lived Spokane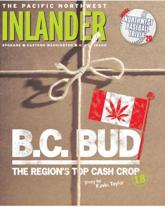 Sports Journal. Then both of us graduated to The Spokesman-Review. Kevin later worked for the Pacific Northwest Inlander and is now a freelance writer who shops his stuff around, as all good independent journalists tend to do. As the author of literally hundreds of stories, Kevin has immersed himself in many aspects of Pacific Northwest life. One of the stories that he did nine years ago for the Inlander, though, may be the only one that inspired a movie. "Kid Cannibis," which will open Friday at the Magic Lantern Theater, is based on a story that Kevin wrote under the headline "B.C. Bud: The Region's Top Cash Crop"/Dan Webster, 7 Blog. More here.
Question: Are you interested in seeing this movie?
---
---