Thu., April 24, 2014, 8:37 a.m.
Captors Ready To Release Bergdahl?
The captors of an American soldier held for nearly five years in Afghanistan have signaled a willingness to release him but are unclear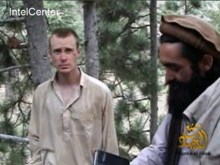 which U.S. government officials have the authority to make a deal, according to two individuals in the military working for his release. Critics of the release effort blame disorganization and poor communication among the numerous federal agencies involved. An ever-shrinking U.S. military presence in Afghanistan has refocused attention on efforts to bring home Sgt. Bowe Bergdahl, who has been held by the Taliban since June 30, 2009. About two dozen officials at the State and Defense departments, the military's U.S. Central Command, the Joint Chiefs of Staff, U.S. Special Operations Command, the CIA and FBI are working the case — most of them doing it alongside their other duties, a defense official said/Associated Press. More here. (AP/IntelCenter file photo)
Thoughts?
---
---