Thu., April 24, 2014, 1:12 p.m.
Goodwill Fashions Part Of Show
Zarah Meyer, 14, hesitantly emerged from a changing room and spun in a slow circle. A floor-length salmon-pink evening gown hugged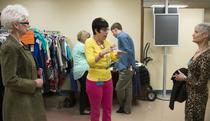 her figure. She smiled as stylist Cheryl Smith clapped her hands and exclaimed, "Now, that's gorgeous!" Meyer is just one of approximately 30 volunteer models who are scheduled to appear in the Goodwill Fashion Show at the 2014 Spokane Women's Show this weekend. She and other volunteers recently had fittings at the downtown store. The first-time model said her mom works for Goodwill and that's how she got roped into helping. "It's exciting," she said/Cindy Hval, SR. More here. (SR photo: Jesse Tinsley)
Question: Do you have a problem with wearing hand-me-downs or 2nd-hand clothes?
---
---