Thu., April 24, 2014, 2:35 p.m.
Johnson: Obamacare Unpopular But…
In his latest Johnson Post, Marc Johnson quotes columnist Garry Wills re: Obamacare:
Wills reminds us that Social Security was once almost as hated as the ACA, but somehow nearly 80 years on it still stands. "Repealing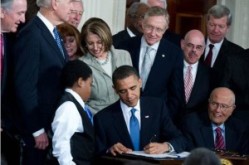 Obamacare will eventually go the way of repealing the New Deal," Wills opines. "But the opposition will never fade entirely away—and it may well be strong enough in this year's elections to determine the outcome. It is something people are willing to sacrifice for and feel noble about. Creeds are not built up out of facts. They are what make people reject all evidence that guns are more the cause of crime than the cure for it. The best preservative for unreason is to make a religion of it." More here.
Question: Have Democrats been too defensive about Obamacare?
---
---