Thu., April 24, 2014, 10:12 a.m.
Zombie Series To Offer Good Jobs
The zombies are coming. And they're bringing work for nearly 200 actors, 1,300 extras and more than 100 crew members. The new SyFy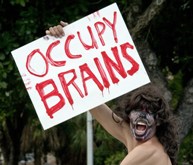 Network television series "Z Nation" will begin shooting in Spokane next month. The network has ordered 13 episodes, all of which will be filmed in the Spokane area this spring and summer and are scheduled to begin airing in the fall. All this, said North by Northwest co-founder Rich Cowan, is a game changer for the Spokane film industry. "We've done about 50 feature films, but a television series, 13-episode television series, is 12,000 worker days of employment here," Cowan said Wednesday. "These are union jobs that pay pension and health care"/Carolyn Lamberson, SR. More here. (AP file photo)
Question: What qualities do you have that would be ideal for working as a Zombie extra in this TV series?
---
---