Fri., April 25, 2014, 1:29 p.m.
Benatar Coming To CdA Casino
On March 29, 1986, Pat Benatar took the stage at the old Spokane Coliseum. Once there, Benatar – the Spokane Chronicle's reviewer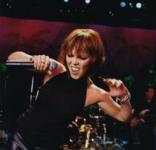 called her a pixie in black leather – claimed her spot in the rock pantheon with a voice as big as her body is diminutive. She made that old Boone Street barn burn as she powered through her early '80s hits. "Hit Me With Your Best Shot." "Fire and Ice." "Heartbreaker." "Promises in the Dark." "Love is a Battlefield," the video for which, even three years after its release, was still in rotation on MTV. The Grammy-winning Benatar, along with her husband and collaborator Neil Giraldo, are returning to the Inland Northwest this weekend for a show at the Coeur d'Alene Casino in Worley. Benatar and Giraldo, who have been married for 32 years, are on the road to celebrate 35 years since the release of her debut album, "In the Heat of the Night" in 1979/Carolyn Lamberson, SR Spokane7. More here.
Question: Favorite Benatar song?
---
---