Mon., April 28, 2014, 1:15 p.m.
CPD Charges 18YO w/3 Burglaries
Arrested for burglary: Brandon C. Jarvis, 18, of Coeur d'Alene
On today's date at approximately 2:30am Coeur d'Alene Police Sergeant Greg Moore was doing directed patrol in the Sherman corridor.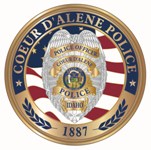 He observed a male climbing over a fence on the east side of 2001 E Sherman. The male was wearing a brown hooded sweatshirt and blue jeans. Sgt. Moore thought the male was acting suspicious so he pulled into the alley in an attempt to intercept him. He was unable to locate the male but noticed a door to Piggies Deli on the north side of 2001 E Sherman appeared to have been kicked several times. The door was bent from the bottom, and had mud on it from what appeared to be shoe prints from a suspect kicking it. While officers were on scene at Piggies waiting for the business owner to respond a business alarm was activated for All American Burgers located two blocks west of their location. Full Coeur d'Alene Police Department report here.
---
---