Mon., April 28, 2014, 8:58 a.m.
UI Wrestles With Guns On Campus
Questions stemming from the soon-to-be-implemented "guns on campus" law are wide ranging and answers are a bit uncertain. Finding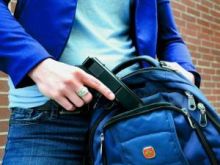 the answers is what a group of University of Idaho officials have been asked to do as part of a 14-member task force established by President Chuck Staben last month. The task force has been assigned to evaluate the changes in Idaho code and State Board of Education policy in an effort to develop a new campus policy in compliance with the recent legislation that permits some people to carry weapons on university and college campuses. Matt Dorschel, executive director for UI Public Safety and Security, said members of the task force are in the information-gathering stage and he's taking input from students, staff, faculty, administrators and Moscow residents/Elizabeth Rudd, Lewiston Tribune. More here. (Lewiston Tribune photo: Barry Kough)
Question: Are you expecting an incident involving a gun on a Idaho college campus next year?
---
---