Mon., April 28, 2014, 8:41 a.m.
UIdaho Hit w/Postseason Bowl Ban
The common joke on Twitter Saturday morning, after Idaho announced that the NCAA had slapped its football program with a 2014 bowl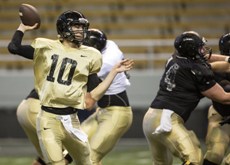 ban, was the Vandals didn't need to be ineligible to be out of the running for the postseason. Idaho is coming off consecutive 1-11 seasons and has dropped 39 games over the last four dark years. The Vandals have advanced to just two bowls in nearly two decades of FBS existence. Pretty bleak, right? Sure, but that same hopelessness couldn't be felt around the Kibbie Dome this spring. The Vandals have two promising young quarterbacks, better weapons at the skill positions than they've had in years and more playmakers on defense. They look ready to take a sizable step in year two of Paul Petrino's tenure/Josh Wright, SR. More here. (Moscow-Pullman Daily News photo by Dean Hare: UI quarterback Matt Linehan (10) passes during the annual Silver and Gold game at the Kibbie Dome in Moscow Friday)
Question: Do you think the fortunes of the Idaho Vandal football team are on the rise?
---
---