Tue., April 29, 2014, 9:02 a.m.
Artist Working On McEuen Sculpture
Terry Lee hopes to have his "American Worker" sculpture ready for the foundry by the time he holds an open house at his new studio on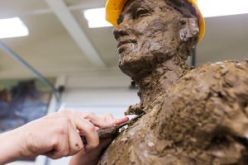 May 22. Lee was hired in March by Dean Haagenson, CEO of Contractors Northwest, Inc., to sculpt the $50,000 statue titled "American Worker," and he hopes to have the bronze ready for McEuen Park by July or August. "It is usually a three-month process once it gets to the foundry, so I want to be done with it by May 22," Lee said on Monday, adding the clay and foam sculpture will be on public display at an open house he is planning at his new studio on that date. "The public is welcome." Haagenson commissioned the piece of art and plans to donate it to the city of Coeur d'Alene to be located in McEuen Park, which his firm is in the process of constructing/Jeff Selle, Coeur d'Alene Press. More here. (Coeur d'Alene Press photo by Shawn Gust: Terry Lee uses a chisel to shape the wax-based clay used to construct the 6-foot-6-inch working man)
Question: Are you pleased with this selection for McEuen Park, honoring the "American Worker"?
---
---