Tue., April 29, 2014, 4:30 p.m.
Bill Hall: Science Fiction Comes True
People in a survey who were asked what they would most like to see happen in the future answered they would like to travel though time.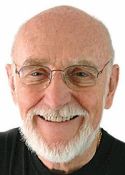 But we are all traveling through time. That's what we do until the day we die - and maybe even beyond that point. Of course, that's not quite what would-be time travelers mean, especially the young ones just getting acquainted with the beginning of their lives. People who say they would like to travel through time are actually talking about traveling through far more than a normal lifetime. They are talking about traveling hundreds of years backward and forward like a wandering science fiction tourist. I understand their curiosity. They want to have dinner with President Abe Lincoln one day and with Hillary Clinton's great-granddaughter, President Mary Bush, the next day. Actually, such goals are virtually impossible so far as we know. The future hasn't happened yet. There ain't no there there/Bill Hall, Lewiston Tribune. More here.
Question: Which period/person in the past would you most want to visit if you could travel through time?
---
---