Tue., April 29, 2014, 2:58 p.m.
Carlson: Butch Whups Fulcher Easily
A conservative friend has challenged me to predict the outcome of the major Republican primary races, and "to say something nice about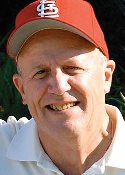 the projected winners." Hokey dokey. Here goes. Prognosticating a "closed" primary is difficult because no one can say with certainty who will actually vote. A poll may show one person far ahead, but if the expected winner has not mobilized his or her supporters to vote an underdog who has could surprise. Governor: Butch Otter easily turns back the challenge mounted by State Senator Russ Fulcher of Meridian. The margin will be 60/40. While many Republicans are hard pressed to say what the governor has done to merit a third term and share my dismay at the evisceration of public school funding that has happened on his watch, they cannot buy Fulcher's Tea Party beliefs nor the absurd Republican platform/Chris Carlson, The Carlson Chronicles. More here.
Question: Do you agree w/long-time Idaho political observer Chris Carlson that Gov. Butch Otter will beat Sen. Russ Fulcher easily?
---
---