Tue., April 29, 2014, 8:40 a.m.
Geocache Revel In Thrill Of The Hunt
Bill Pierce accidently stumbled across geocaching while hiking Shoshone County's Pulaski Tunnel Trail. Pierce wanted to double-check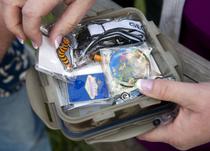 the name of the creek that runs down the ravine before he entered the day's adventure in his journal. Google found him the West Fork of Placer Creek and included a description of a geocache location, where a cache – or a hidden container – was stashed along the trail. "What the heck is that," Pierce remembers thinking, fascinated by the idea that there are 2.3 million geocaches hidden across the world, including more than 2,000 in Spokane County. Players who hide caches share the location online at www.geocaching.com. All anyone needs is a GPS or a smartphone to plug in the GPS coordinates (latitude and longitude) of a location then navigate the directions to find the hidden geocache, which usually includes a log book and perhaps a trinket or coin/Erica Curless, SR. More here.
Question: Have you ever participated in a geocache hunt?
---
---