Tue., April 29, 2014, 9:16 a.m.
Independent Bookstore To Open
When Melissa DeMotte, pictured, started thinking about opening a bookstore in Coeur d'Alene, she knew she needed a savvy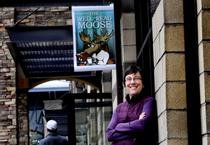 business plan. The avid reader had a soft spot for independent bookstores, but her finance background made her a realist. Studies indicate that only a small percentage of Americans regularly buy books. And many of those purchases are made online. So DeMotte, 51, did her research. She attended an American Booksellers Association conference on opening a store. She worked with a nationally known consultant from Florida. And she networked with other independent bookstore owners. After two years of work, DeMotte says she's got a store plan that fits Coeur d'Alene. The Well-Read Moose is on track to open in late May or early June in Riverstone/Becky Kramer, SR. More here. (SR photo: Kathy Plonka)
Question: Can an independent bookstore make it in Coeur d'Alene?
---
---