Tue., April 29, 2014, 1:12 p.m.
Naples Poacher Faces Stiff Penalty
Poachers sometimes get off lightly with their local courts for illegally killing fish and game in the region's hinterlands. But when you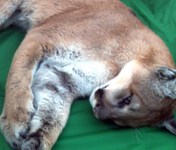 participate in a wildlife crime that crosses state lines, you're violating the Lacey Act, which sets you up for federal law enforcement and prosecution. Tod S. Navarro, 49, of Naples (Boundary County), and others are finding out what that's all about. Navarro pleaded guilty Monday in United States District Court to aiding the unlawful acquisition and transportation of a mountain lion in 2012, U.S. Attorney Wendy J. Olson announced. Although the charge is a misdemeanor, it's punishable by up to one year in prison, a maximum fine of $100,000, and up to one year of supervised release, or a maximum term of five years' probation. Navarro was initially indicted by a federal grand jury in Coeur d'Alene on July 16, 2013/Rich Landers, SR. More here.
Question: Anyone willing to plead for leniency for this poacher?
---
---