Tue., April 29, 2014, 11:54 a.m.
NIC's Phay Opts For CSI Cage Job
Jared Phay, pictured, is leaving North Idaho College to become the new head basketball coach at College of Southern Idaho, The Spokesman-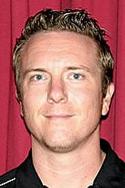 Review has learned. Phay has been NIC's head coach for 10 seasons, guiding the program to Scenic West Athletic Conference titles in 2006, 2009 and 2010. Phay's 2009-10 teams combined to win 54 games. He's been honored as SWAC coach of the year three times and his 2010-11 team reached a No. 1 ranking for the first time in program history. Phay will be introduced as CSI's coach at a press conference Wednesday in Twin Falls, sources said. Phay, New Mexico J.C. coach James Miller and Norm Parrish, an assistant at Utah and former Salt Lake C.C. head coach, were finalists, according to hoopdirt.com. Phay replaces Jeremy Cox, who resigned last month after coaching one season. CSI was 27-5 last season and Cox was voted SWAC coach of the year/Jim Meehan, SR. More here.
Question: Do you expect more coaches to leave North Idaho College as a result of the trustees' decision to switch to a weaker community college sports conference?
---
---