Tue., April 29, 2014, 5:02 p.m.
'Star Wars' 7 Cast Announced
After months of silence, Lucasfilm finally announced the main cast of the forthcoming Star Wars revival, Episode VII, in one explosive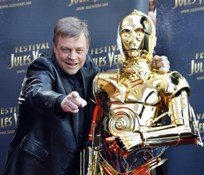 sentence Tuesday. "Actors John Boyega, Daisy Ridley, Adam Driver, Oscar Isaac, Andy Serkis, Domhnall Gleeson, and Max von Sydow will join the original stars of the saga, Harrison Ford, Carrie Fisher, Mark Hamill, Anthony Daniels, Peter Mayhew, and Kenny Baker in the new film," read the press release on Starwars.com. You'll recognize the names of the actors playing Han Solo, Princess Leia, Luke Skywalker, C-3PO, Chewbacca and R2-D2 (who was, up until now, the only character officially known to be returning to the franchise). Ford, Fisher and Hamill's participation has been something of an open secret for the last year and a half, ever since George Lucas accidentally mentioned to Bloomberg Businessweek they'd be returning/Mashable. More here. (File photo by Remy de la Mauviniere: actor Mark Hamill, the original "Luke Skywalker," poses with a figure of the movie, C 3 PO)
Question: Were you happy/disappointed with the three prequel movies? What do you expect from the final three sequel movies?
---
---