Tue., April 29, 2014, 8:33 a.m.
Todd Tondee's Curious Endorsement
In its endorsement of Commissioner Todd Tondee, pictured, the North Idaho Political Action Committee (aka, Reasonable Republicans) offered this disclaimer: ""The NIPAC board debated extensively on the County Commissioner race between Todd Tondee, Marc Eberlein and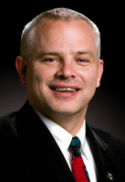 Tim Herzog. While we have concerns about Commissioner Tondee and recent decisions made by the Board of Commissioners regarding the Unified Land Use Code, we decided that Tondee was the best choice of the candidates on the ballot." Reading between the lines, it's safe to say that NIPAC was less than enthusiastic about Tondee. But even less so about his Tea-publican opponent Marc Eberlein and Tim Herzog (who some see as a spoiler). As I see it at Huckleberries Central, the Rally Right/UCNI/Constitutionalist wing of the local GOP are thisclose to taking over the commissioners office. Tondee, with all his warts, may be all that stands between Eberlein and Dave Stewart winning GOPrimary nods to move onto the general election, where they will be heavy favorites over two Democratic opponents. Eberlein and Stewart, who is running unopposed in the GOPrimary (thanks to Jai Nelson bowing out after the filing deadline), belong to the anti-UCNI North West Property Owners Association (featuring Brent Regan and the cream of the Hard Right crowd). If Eberlein and Stewart win, the Tea-publicans will be the ones singing happy days are here again come next January.
Question: Is an uninspiring Tondee preferable to hardliner like Eberlein?
---
---