Wed., April 30, 2014, 9:42 a.m.
Cops Shoot Suspect At Crime Scene
Spokane police investigating a homicide at a north Spokane home Tuesday shot and killed a man in front of news reporters and other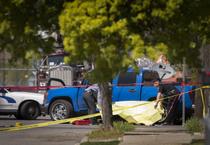 witnesses after he drove his blue pickup through a barricade and pointed what appeared to be a pistol at officers. The shooting happened outside 2512 N. Standard St. at 1:50 p.m. as investigators looked into the death of a woman whose body was found at the small home just blocks from Logan Elementary School and Gonzaga Prep. Spokane police Chief Frank Straub said the man shot and killed by officers was a suspect in the homicide. "We had identified him and had, in fact, been looking for him for approximately two hours," he said. Police did not release the names of the woman found dead or the name of the man killed by officers/Kip Hill, SR. More here. (SR photo by Colin Mulvany: Investigators cover the body of man who was shot and killed by police Tuesday in north Spokane)
Question: Which side is worse in Spokane -- the cops or the bad guys?
---
---