Wed., April 30, 2014, 4:54 p.m.
CSI Introduces Phay As New Coach
The College of Southern Idaho Athletic Department is pleased to announce the hiring of Jared Phay as the new men's basketball head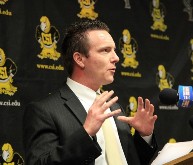 coach. Phay joins the Golden Eagles after 10 years as the North Idaho College head coach. "We have watched him grow. We have watched his program through the years and Jared does things the right way." said CSI Athletic Director Joel Bate "We are excited to see what he can accomplish here at CSI and welcome him into our Golden Eagle family." During his time with the Cardinals, he was named Region 18 Coach of the Year three times. He won Scenic West Athletic Conference Championships in 2006, 2009 and 2010. The last seven years, he has posted 20 wins or more and has 221 career wins at North Idaho. In 2010-2011, Phay led the Cardinals to their first ever No. 1 national ranking in school history from Nov. 23, 2010 to Jan. 4, 2011/College of Southern Idaho sports department. More here.
Thoughts?
---
---