Wed., April 30, 2014, 8:40 a.m.
NIPAC Airs Precinct Endorsements
The North Idaho Political Action Committee (NIPAC) announced its endorsements today for a slate of candidates running for Kootenai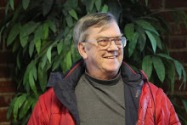 County Republican Precinct Committeemen and women. In a prepared statement, NIPAC said: "As a group of independent minded, conservative Republicans, it is the goal of North Idaho Political Action Committee (NIPAC) and its many supporters to help identify and elect rational, pragmatic and dedicated individuals, with proven leadership qualities and problem-solving skills, to serve in public office, including local precincts." ... "We are very concerned that current central committee leadership and a current majority of the membership, supports language in the Idaho Republican Party Platform to close the Republican Primary and remove your right to vote for U.S. Senator. These moves discourage political participation by systematically removing the people of Idaho from the voting process and consolidating power with political elites." You can see the list of precinct committeeman endorsements here. (Photo: Herb Huseland was endorsed in the Precinct 4 (Bayview area) precinct committeeman race)
Question: Do you approve/disapprove of these endorsements?
---
---