North Idaho Wants More USFS Say
North Idaho's counties want more influence over how the U.S. Forest Service manages hundreds of thousands of acres in the region.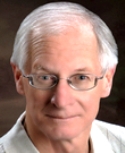 Actions such as road closures, fire management and proposed wilderness areas affect local governments, their citizens and their tax base, the county officials said. They said officials at the Idaho Panhandle National Forests didn't listen to their concerns when the agency developed a new forest plan. "Seventy-four percent of the lands in Shoshone County are federally owned," said Larry Yergler, pictured, a Shoshone County commissioner. With such a large land base, Forest Service actions affect everything from the number of local timber jobs to revenue for the county's road budget, he said/Becky Kramer, SR. More here. (Photo: Project Vote Smart)
Question: Can North Idaho counties be trusted to have more influence over USFS lands in the region?
---
---