Wed., April 30, 2014, 1:19 p.m.
In Praise Of Avocados
Rich and creamy, avocados are quite possibly the perfect fruit. When they're ripened and ready, they don't last long at my house. If I'm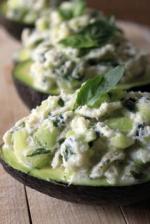 not trying to save them for a specific recipe, I don't need anything to enjoy them but a little sea salt and freshly cracked pepper – and a fork. If it wasn't for their alligator skin and large pit, I would eat them like apples. I love avocados that much. Green, pear-shaped, velvety and versatile, they're what make guacamole so great. They also complement all kinds of foods – from salads, sandwiches, omelets and wraps to toast. Simply smash the fruit's green flesh onto a piece of good, crusty bread, sprinkle with some black sesame seeds, and devour/Adriana Janovich, SR. More here.
Question: Do you agree with Adriana's statement that she'd eat avocados like apples if it wasn't for their alligator skin and pit in the middle?
---
---