Wed., April 30, 2014, 8:24 a.m.
Silverwood To Open Saturday
Silverwood Theme Park opens Saturday for its 27th season of family fun. On opening weekend, tickets are only $19.88 per person in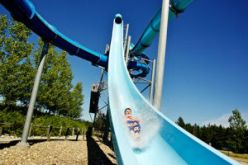 celebration of Silverwood's first season in 1988. Tickets are available at silverwoodthemepark.com and at the front gate. Silverwood will be open on weekends until daily operation starts May 24. Regular general admission price is $45.99. When a family brings mom on Mother's Day weekend, March 10-11, mom gets in free with ticket purchases online or at the gate. In addition, the price is $37.99 for general admission and $20.99 for youth and seniors. The admission on May 17-18 is half price for all ages/Coeur d'Alene Press. More here. (Coeur d'Alene Press file photo)
Question: How many times do you visit Silverwood during an average summer?
---
---