Fri., Aug. 1, 2014, 2:55 p.m.
Former Idaho Rep June Judd, 88, RIP
June retired from teaching in 1990, and that same year was elected to the Idaho House of Representatives, serving for 10 years. During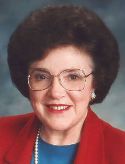 that time, changing district lines had her representing areas as far north as Hope and Priest River, and as far south as Riggins and from the Washington to the Montana borders. June's political alignment came out of her background with farmers, loggers, millworkers and miners when the Democratic party represented their interests. She was a conservative "Reagan Democrat." June rose to the position of Assistant Minority Leader during her time in the Legislature. She was especially proud to sponsor and gather the legislation to fund Idaho's portion of the World War II memorial in Washington, D.C., honoring the veterans and service of her generation/Coeur d'Alene Press. More here.
---
---