Fri., Aug. 1, 2014, 9:04 a.m.
Regan Defends Nonini
In the comments section under Sen. Bob Nonini's letter to veterans that was printed in the Coeur d'Alene Press, political activist Brent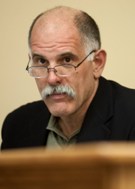 Regan writes: "Why does people fail to speak the truth? If you take the time to get the facts you learn that Len Crosby DID NOT e-mail Senator Nonini using Bob's senatorial or private email account. Mr. Crosby used the "contact" form on the bobnonini.com website, which Cathyanne is the webmaster. Cathyanne said she would forward the request to her husband. She DID NOT respond as the senator. It was Mr. Crosby who made the false claim. The only per son who did anything wrong here was Len Crosby. Clearly he made a false accusation. Was it a deliberate act or epic ignorance? I am sure Commander Hansen is wondering if Mr. Crosby is well suited to his position of Legislative Chairman of the post."
Thoughts?
---
---