Mon., Aug. 4, 2014, 8:25 a.m.
Body By Scotty Owner Feared Dead
The owner of a Post Falls auto body shop is missing and believed to have drowned Saturday in Lake Coeur d'Alene. Gary Scott "Scotty"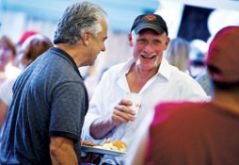 Shawver, 57, is reported to have jumped into the lake near Stevens Point, south of Tubbs Hill, shortly before 7:30 p.m. He was attempting to retrieve an item that fell from a boat he was in, and he was not wearing a life jacket at the time. Shawver was unable to make it back to the boat. Marine and dive units from the Kootenai County Sheriff's Office responded, but were unable to locate Shawver. The water depth in the area is roughly 140 feet. The sheriff's SONAR team will continue searching. "It's just such a huge loss, not only to his family and friends, but to the community," said friend and Post Falls City Councilor Kerri Thoreson, who heard the news when friends began texting her Sunday morning/Devin Heilman, Coeur d'Alene Press. More here. (Coeur d'Alene Press file photo by Jerome A. Pollos: Scott Shawver, owner of Body by Scotty, put on annual block parties on Third Street in Post Falls for 18 years)
Thoughts?
---
---