Mon., Aug. 4, 2014, 11:37 a.m.
Boomers Planning 50th Reunions
It seems like a high school kid is trapped in every aging baby boomer body at the table – rebellious, self-indulged, gossipy, with a giggly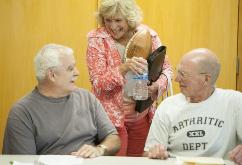 interest in the opposite sex. Yep. It's a planning committee for the 50th reunion of the Lewis and Clark High School class of 1964 and nothing gets them revved up more than reminiscing about the "good ol' days" for a willing audience. "We were raised in the days of innocence," said Gloria Warrick Spear (née Nauditt), who is the head planner of the three-day reunion Sept. 5-7. She has the gavel to prove it and the glare to shush the rowdy guys in the group as she reads off a checklist of how it was in the early 1960s in Spokane. "Yeah, every guy I knew was a horny…" groused classmate Pat Ireland, a jock. None of the "greasers" or "thugs" are on the 33-member planning committee, but there is Molly McLellan Bennion, the 1964 Lilac Queen/Erica Curless, SR. More here. (SR photo: Dianne (Connelly) Stephens talks with classmates Dan Baggarly, left, and Nick Suksdorf during a planning meeting for Lewis and Clark's class of 1964 reunion)
Question: Where did you fit in during high school? Jock? Cheerleader? Nerd? Etc.
---
---