Mon., Aug. 4, 2014, 9:08 a.m.
Boomers Embrace Cosmetic Surgery
We baby boomers have made it clear that we wish to live forever. The universe stubbornly refuses to grant our demand, possibly because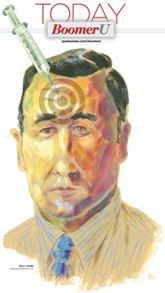 the universe fears this would set a bad precedent and lead to overcrowding, or possibly because even the universe is sick of us hanging around and hogging everything. In any case, we have not been granted our mortality waiver. So now, millions of us have simply demanded the next closest thing: We wish to look young forever. This time, modern medicine has stepped up and granted our wish, with a few new disciplines that specialize in what you might call "face-staging" or "cheek-bone fluffing." We can now look young right on through to the hospital dementia ward, although perhaps the word "young" is not quite accurate. Perhaps the words "taut," "unwrinkled" and "creepily lifelike" are more precise/Jim Kershner, SR. More here. (SR illustration: Molly Quinn)
Question: Have you considered cosmetic surgery to keep yourself looking young?
---
---