Mon., Aug. 4, 2014, 8:46 a.m.
Edit: Crane Is 0-for-4 In Debates
Each political season, Idaho's elected officials -- from the top of the ballot on down -- join their opponents on Idaho Public Television's Idaho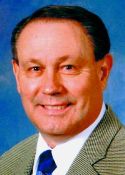 Debates. They may not like it. They may refuse to appear at any other debate. But the Idaho Debates have become almost obligatory. Nobody blows them off. Nobody, that is, except Idaho Treasurer Ron Crane. Where was he during the three-way 1998 GOP primary campaign pitting him against Trudy Jackson and Barbara Bauer? Or the 1998 general election race against Reform Party candidate Latham Williams? Or the election four years later when Democrat Sally A. Beitia and Libertarian Sherwin M. Fellen challenged him? Where was Crane during the 2006 campaign against Democrat Howard C. Faux? Hiding. Four years ago, nobody ran against Crane so he got another pass. Talk about a perfect record: Four campaigns. Sixteen years. No debates. No problem. This is Idaho/Marty Trillhaase, Lewiston Tribune. More here.
Question: Do you pay attention when a candidate skips out on a debate?
---
---