Mon., Aug. 4, 2014, 11:22 a.m.
Ex-White House Press Sec Brady, RIP
Former White House Press Secretary James Brady has died at the age of 73, according to a statement from his family. "We are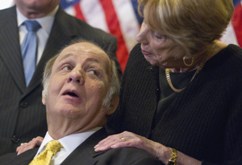 heartbroken to share the news that our beloved Jim 'Bear' Brady has passed away after a series of health issues," the statement said. "His wife, Sarah, son, Scott, and daughter, Missy, are so thankful to have had the opportunity to say their farewells." Brady served as press secretary under President Ronald Reagan. In an assassination attempt on Reagan in 1981, Brady was shot and left permanently disabled. Brady became an advocate for gun control after he was shot, spending years pushing for the Brady Bill, which requires a five-day waiting period and a background check before a prospective buyer can purchase a handgun/Huffington Post. More here. (2011 AP file photo: James Brady and his wife, Sarah)
Question: Do you remember where you were when you heard about the attempted assassination of then President Ronald Reagan?
---
---