Mon., Aug. 4, 2014, 8:53 a.m.
Idaho GOP Picks Yates As Chairman
New Idaho GOP Chairman Steve Yates has his work cut out for him. He told reporters today that his next major challenge will be getting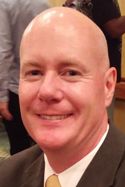 the state party office open; he's also asking county GOP chairmen to contact him with any outstanding bills that need to be paid. Idaho Public TV's Melissa Davlin reports that she's spoken with several central committee members who said they're optimistic his election will help move the party forward, even if they didn't vote for him; Yates won a three-way contact, defeating Douglas Pickett and Mike Duff. The party he's now heading has been in disarray since its June state party convention in Moscow, at which deeply divided delegates squabbled over seating several counties' delegations and never got to votes on leadership, resolutions or a party platform. Republicans currently hold every statewide office in Idaho/Betsy Russell, Eye on Boise.
Thoughts?
---
---