Mon., Aug. 4, 2014, 2:22 p.m.
OTV: Frankenfood, Anyone?
On this hot summer's day, OrangeTV/Get Out! North Idaho has amused himself by trying to conjure freaky food items from North Idaho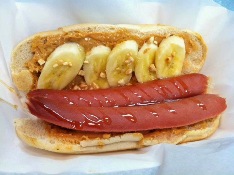 that might meet the weird standards for a reality TV show on Sunday night, titled "Frankenfood." Writes OTV: "I'm sure there were others, but one genuine North Idaho frankenfood pioneer that comes to mind from a sadly long-gone establishment is Dangerous Dog's (CdA) #6, the P.B. Dog. This was a gag-inducing item for some, a beef hot dog smeared with Chunky Peanut Butter and honey, lined with sliced bananas and sprinkled with chopped peanuts. Jesi B had enough bazongas to order this the first time we went to the place. I had a bite, and the flavor combination was surprisingly divine! I highly recommend this for home consumption, especially if your little stoner cousin is in town visiting from Walla Walla." OTV goes on to say that the new LavaDog in Hayden might qualify as a Frankenfood. More here.
Question: Have you dined out on "Frankenfood" in North Idaho? What kind? Where?
---
---