Mon., Aug. 4, 2014, 3:53 p.m.
She Said: 'I Met Someone …'
I met with my favorite 20-something young woman the other day. I was eager to hear details – two months ago I received a text from her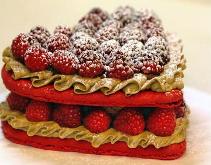 reading, "I met someone." Every woman knows exactly what those words mean – a someone worth considering, a person who makes her heart beat differently, a person who may be the one forever and ever. When I asked her if she had ever felt like this before about any man, she said, "Well, I thought I had, but this feeling is…is… is like being really hungry and then the waiter brings you the most amazing food, food you didn't even know to ask for!" Perfect/Catherine Johnston, End Notes. More here.
Question: What food would you compare love to? Why?
---
---